06mayAll Day08Coronation Weekend at St James(All Day) Hebden Bridge
Event Details

Coronation Weekend at St James

St James' (Church Lane, Hebden Bridge, HX7 6DS) is celebrating the Coronation of King Charles III. The church will be decorated, including Coronation-themed flower arrangements and there will be an exhibition about Prince Charles' visits to Hebden Bridge and how Hebden Bridge has celebrated past Coronations. The church will be open every day for people to call in.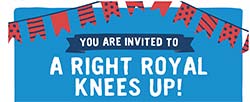 If you have any photos or memories of Prince Charles' visits or past Coronations to share or want to get involved, please contact event@machpelah.uk or call at the church during the Foodshare (weekdays 2:30-3:30pm).
6th May: St James' only has one bell which can be rung. If you want to try ringing, please go to the church after 10 am but before 11am (when the Coronation begins.)
7th May: Join in with The Big Lunch from 11:30 am. This is a nationwide initiative and at St James' we are having a foodshare, a Potluck lunch and fun with our local community. Crowns available.
8th May On this day there is a nationwide initiative called The Big Help Out. (thebighelpout.org.uk) If you are involved with a group and want to publicise it at St James' or run an activity in or from the church on that day,  please get in touch.
Photo by Chris Boland
Time

may 6 (Saturday) - 8 (Monday)